About Galway Archaeological Field School
The Galway Archaeological Field School provides students with hands-on experience of the archaeology and architecture of medieval Ireland. We specialise in this field and seek to immerse our students in the wealth of medieval castles, churches and monasteries which lie scattered across the Irish landscape. We offer three courses: a two-week non-excavation course focussed on the study of medieval architecture and two four-week excavation courses, one serving as an introduction to archaeological excavation and one offering experienced students further tuition in the various recording techniques used in archaeological excavation.
The field school is based in Co Galway and draws on a wealth of archaeological remains which are found across the landscape of this historic region. The two-week architecture course involves regular travel to visit many of the famous castles, churches and monasteries of medieval Ireland, and field trips are also included in the excavation courses in order to broaden the students experience of Irish landscapes and monuments. The ethos of the field school is firmly founded on high quality, small-group tuition and we aim to give every student close attention so that they may fully understand the skills they learn and thereby enjoy their course to the fullest degree possible. Students who wish to extend their stay in Ireland could, for example, combine the two-week architecture course with the four-week excavation course (e.g. Sessions 1 + 2 or Sessions 3 + 4) to create an unforgettable six-week stay which would immerse them fully in Irish culture, history and heritage, while students focussed on excavation could combine Sessions 2 & 3 in order to take both the introductory and advanced excavation courses in one eight-week, intensive stay.
At weekends, students have free time to explore the local towns and villages or to visit nearby Galway city, a vibrant, youthful university town with an enchanting array of summer festivals which attract visitors from all over the world. These festivals include the Galway Sessions (traditional and folk music), the Galway Film Festival, the Galway Arts Festival and the legendary Galway Races, so students have endless opportunities to engage with Irish culture at a variety of levels.  Galway is easily accessible via public transport from the international airports at Dublin and Shannon and so the Galway Archaeological Field School is ideally placed to welcome students who seek to gain hands-on experience of archaeological fieldwork, to learn about medieval Ireland and to experience modern Ireland to the fullest possible extent.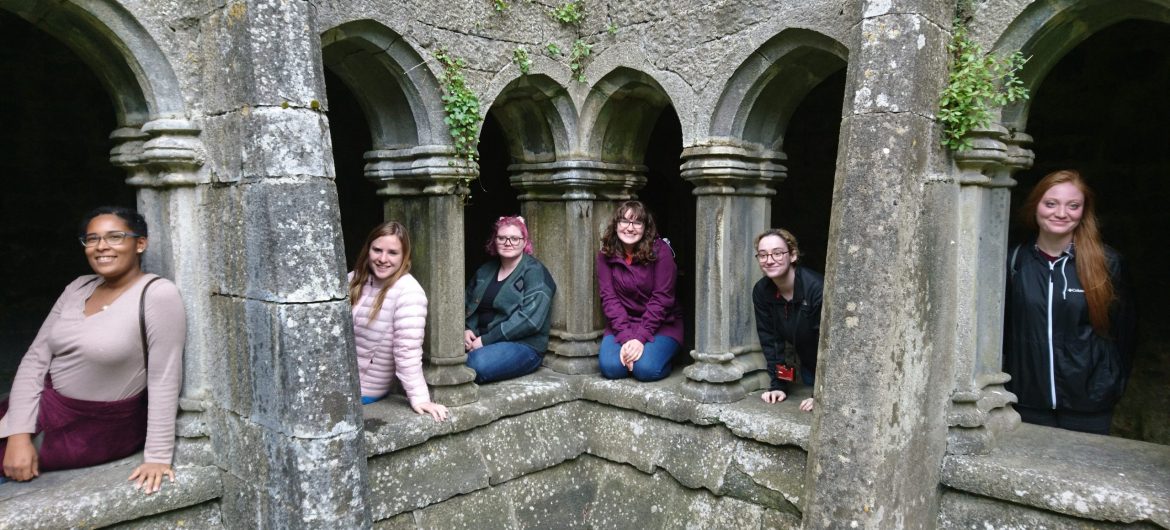 The field school is directed by Dr Rory Sherlock, a specialist in the archaeology and architecture of medieval Ireland, who can draw upon twenty years of experience on archaeological excavations in order to provide the best tuition for his field-school students. Rory completed his BA and MA in University College Cork in the 1990s and then worked in commercial archaeology and cultural resources management for some years before returning to academia to undertake doctoral research in NUI Galway under the supervision of Dr Kieran O'Conor. During his time in commercial archaeology, he directed a broad range of projects on motorway schemes, housing developments, urban regeneration projects and harbour dredging schemes and so he has accumulated extensive experience of prehistoric and historic archaeology across Ireland and further afield. His doctoral research was focussed upon the social environments created within late medieval tower houses and these small castles, and late medieval Irish architecture in general, have been at the centre of his research programme for many years.
He has taught archaeology and architectural history to university students at undergraduate and graduate levels, has delivered papers at important conferences in Ireland, Britain, Europe and North America and has published his work in various regional, national and international journals. He particularly enjoys field-based, small-group teaching and worked briefly at the Caherconnell Field School before being appointed Director of Fieldwork at the Achill Archaeological Field School in 2012. He founded the Galway Archaeological Field School in late 2013 and plans to develop it into an important research centre for the study of the archaeology and architecture of medieval Ireland.
Rory is a member of the Institute of Archaeologists of Ireland, a former member of the Council of the Society for Medieval Archaeology, a former member of the Scientific Council of Europa Nostra and a regular attendee at both the Towers and Chateau Gaillard conferences, two of the most important European conferences dedicated to medieval fortifications and residences. More information on Rory's publications, including some PDF downloads, can be found on his academia.edu page.