Situation Update (16 May 2022)
The COVID-19 pandemic caused the cancellation of our entire 2020 and 2021 seasons, but vaccines are now being distributed worldwide and we are currently planning for a great Summer 2022! International travel restrictions have been eased considerably in recent months, and so we currently believe that we will be able to run our 2022 season as planned. In order to protect each other and the communities within which we live and work, we require all students to be fully vaccinated against COVID-19 before course commencement in May 2022.
We will continue to track COVID-19 case figures, vaccination rates, and travel restrictions, and we will disseminate this information to prospective students via this webpage and via email updates through our 2022 Mailing List. In recent months, Ireland followed a now-familiar pattern of a high spike in COVID cases followed by a steep decline, but our hospitals were under less pressure with Omicron than they experienced with previous waves. Here is a graphic showing the 7-day rolling average of new cases per 100k in Ireland, in the UK (our nearest neighbour), and in the USA and Canada, the two countries where most of our students come from: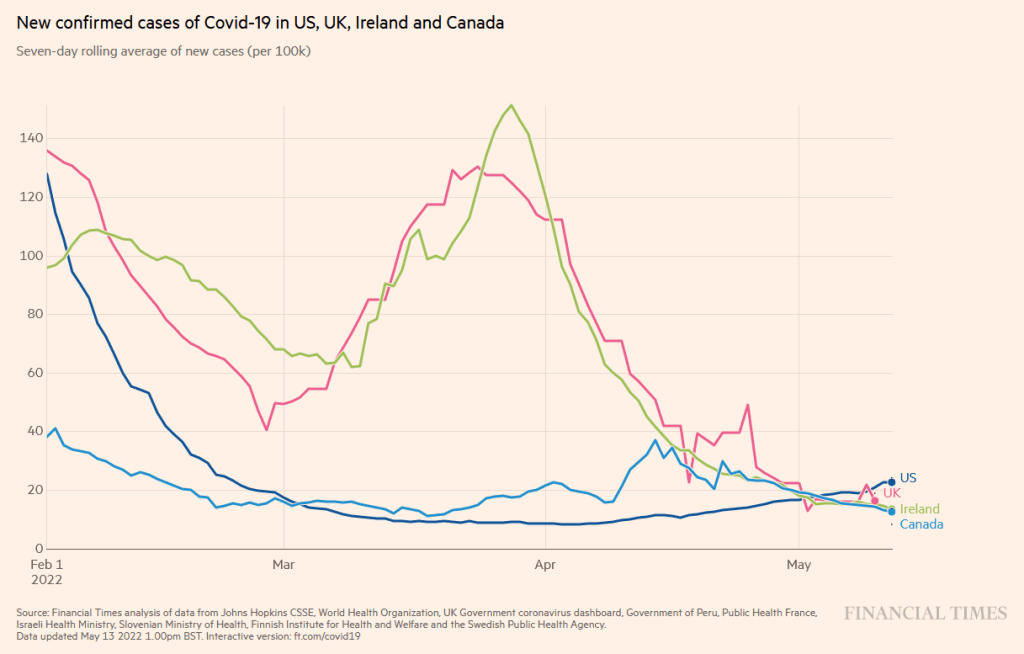 Since 6 March 2022, the Irish government currently no longer requires all passengers arriving into Ireland to show proof of vaccination, proof of recovery or a negative PCR test result upon arrival.
After a slow start, the Irish vaccination programme is running very well and the percentage of residents now fully vaccinated (85.6% of people aged over 5 years old) has surpassed comparable vaccination rates in the USA, the UK, and the EU average.
COVID Strategy
We require documentary proof of COVID-19 vaccination, and we will incorporate practical measures (ventilation, hand sanitisation, etc.) into our daily routines.
Booking and Refunds
Students can be slow to book their courses due to the uncertainty caused by COVID-19, so it may be useful to outline our refund policy here.
Students have always been able to cancel their planned participation in any GAFS course for any reason – our standard refund policy is to offer a 90% refund to all students up to six weeks before course commencement, and this remains our 'bedrock' policy – we try to do better where possible, but this offer is always there
If we are forced to cancel a course due to COVID-19 restrictions (or any other international crisis that is outside of our control), we will try to offer 100% refunds to the students on that course
If we run a course as planned, but a student booked on that course cannot enter Ireland due to a government-imposed travel restriction, we will offer a 100% refund to that student
In summary, our standard 90% refund is available up to 6 weeks before course commencement at a minimum – in 2020 we improved this offer to allow students to cancel closer to the start date (due to uncertainty caused by COVID) and we subsequently issued 100% refunds when we were forced to cancel the courses.